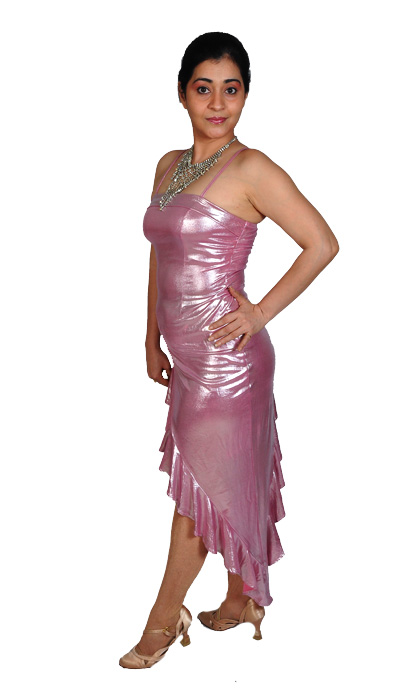 ARPITA RANADIVE SATHAYE
Arpita Ranadive Sathaye started her career as a child artist, worked in several ad shoots and at a tender age of 4 started with the basics of Bharatnatyam and went on to complete her "Visharad" from Mumbai University. Arpita also trained with Shamak Davar Acadamy in Bollywood dance format. Adding toher credit she has done her ballroom dancing and training with Sandeep Sopparkar.
Arpita Ranadive Sathaye, has certified and trained under the "Imperial society of teacher's dancing" (ISTD) LONDON. She is highly trained and well in command in all the different categories like Latin American, Modern Ballroom dances along with contemporary and ballet dancing, she has won various medals, certificates and titles in various state in the national and international competitions also choreographed for many local schools and collages with a fine hand in direction too in various shows.
To add to Aprita's feather in her cap, she is a certified teacher and a member of the Dancesport International (DSI) with the international circuit in dancing. Arpita has achieved her training in CLUB DANCES from San Francisco and New York with various dance formats like Salsa, Merengue, Bachata etc.
In Addition to all this Arpita is a Topper in YOGA Philosophy from Mumbai University associated with various hospitals and doctors across Mumbai practicing and having amidas touch curing people within the city. To make it complete a well certified Icon in Fashion and jewelry designing. We also host a lot of events in Mumbai for corporates, schools and colleges. We are also tied up with the state of the art music recording studio where we do recording for our upcoming studentsinto various music. Also coming up soon with courses on Personality Development, Acting, RJ, DJ, VJ, Fashion Designing and English Speaking courses.
Pamper yourself to learn all that your heart desires and excel yourself to be a well accomplished dancer. Arpita Step Up Dance Academy a name that spells excellence in its field..
I completed 2 years in Step up. In these two years I saw Step up growing. 




Its Arpita and her team's hardwork. Arpita is still down to earth




as she was on the first day I met her 2 years back. Great lady !!
Arpita StepUp Dance Academy is an awesome place to indulge in dancing, or fitness. They have a platter full of choices.I have been doing Zumba in Purvesh's class since last 5 months. Purvesh not only is a versatile dancer but also is a very good instructor. Learning in his class is always fun because of the energetic and friendly atmosphere that he creates around him.It is his contagious energy and great attitude that keeps us going even when we are tired and lazy.So, if you are bored of your mundane gym routine, join Purvesh's Zumba classes.Trust me, you will have Gala time
I am very lucky to be trained under Arpita Step Up Dance Academy. From a non-dancer to a mediocre dancer, Arpita has helped me a lot on this journey. Organizing competitions, DJ nights, Farewell parties etc are what have motivated me to shake my legs.  Step Up Dance Academy's staff and instructors are very patient and helpful with their clients. If dance is what you have always dreamt about, you have come on the right page!!